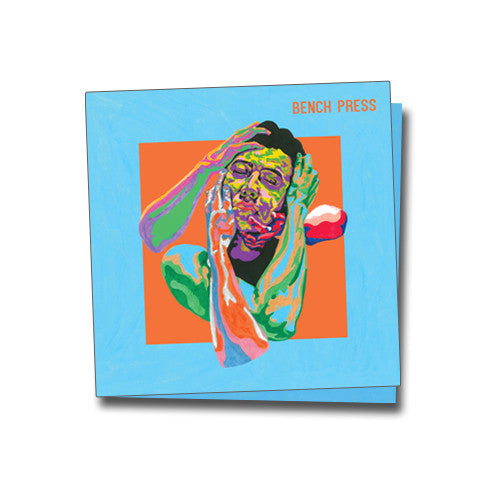 BENCH PRESS 'Bench Press' CD
"Each time I listened to the album, I had to remind myself that this is their debut album. Ten tracks of near-perfect, very Melbourne post-punk. But hey, what's perfection in punk anyway? They're getting a well-deserved nine out of ten for this release – and that's entirely selfish, so they've got room to grow to a ten for their next album. Only good things to come here." - Beat Magazine

"Think The Nation Blue spliced with Joy Division, or Eddy Current Suppression Ring having a crack at covering The Stone Roses; however you slice it, Bench Press is an exciting, earnest and thoroughly enjoyable listen." - Hysteria Magazine
"It's a beautiful, fucked up ride." - Rolling Stone

Debut album from exciting new Melbourne post-punk outfit BENCH PRESS. Original painted artwork by Ruby Lu. Digipack CD version.

Recorded and mixed over the summer of 2017 by Matt Chow and mastered by Mikey Young, Bench Press's debut album straddles the sound of classic post-punk (a la Dischord / Touch & Go Records) and the gritty style of garage-rock that their hometown of Melbourne is well versed in. Ten tracks that emit that wonderful blend of youthful energy and warm sense of years gone by - when underground music was delivered with less frills and with more urgency.
Vocalist Jack Stavrakis muses, "lyrically this album is all about introspection - looking closely at yourself and being honest about your own situation in an attempt to better understand how you feel - to learn from this and to be the best you can be."
FOR FANS OF: Cable Ties, Eddy Current Suppression Ring, Slint, Rites Of Spring ++