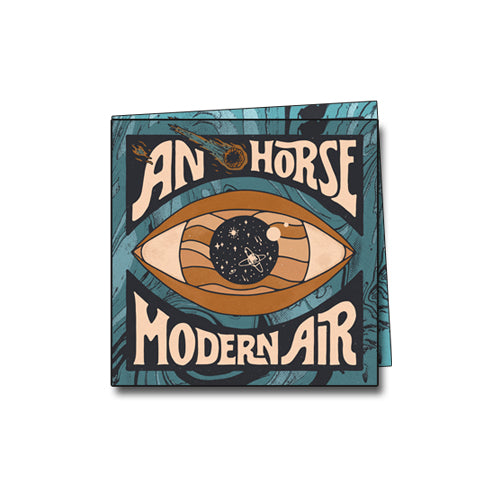 AN HORSE 'Modern Air' CD
Digipack CD version of AN HORSE's new 2019 album 'Modern Air'.
AN HORSE's first new studio album in over eight years! Available on Sea Blue or Black colour vinyl. Comes with Download Code.
The heart of An Horse's magic is rubbery and elastic. Rows of slinky, hypnotic spirals, widening middle-out. They've never spun to more vibrant and dynamic impact than on their third album Modern Air.
Loosely from wherever-you're-seeing-them-play-tonight-by-way-of-Brisbane-to-Montreal-and-New-York, Kate & Damon woke up from a six-year nap to make their best, broadest and most accomplished album, doubling-down on and clarifying their strongest strengths while casually developing and showcasing a career's-worth of new ones.
Before their 6 year break, An Horse were 2 albums into their career and touring non-stop with the likes of Tegan and Sara, Death Cab for Cutie, Silversun Pickups, Nada Surf, Cage the Elephant, and Brand New when a series of distracting life events forced them into a hiatus of sorts. That hiatus led to an extended break from touring and recording that's finally ending with their 2019 album Modern Air.
The songs on their new record manage to be both propulsive and loping, lean mission statements about negotiating modern living easter-egged with intelligence and humour, melodic and percussive ear candy, heart and teeth, hope and anger.
They sound like themselves, two-headed and singularly focused, a particularly effective evolutionary step in a long tradition of of guitar-based indie-rock, angular in spaces, jangly in others, sometimes both at the same time. They take a familiar vocabulary and teach it new words, one sugary harmony barbed-wired to unflinching insight at a time.
Modern Air is An Horse at their most realized, and it's right on time. Some naps are worth taking.