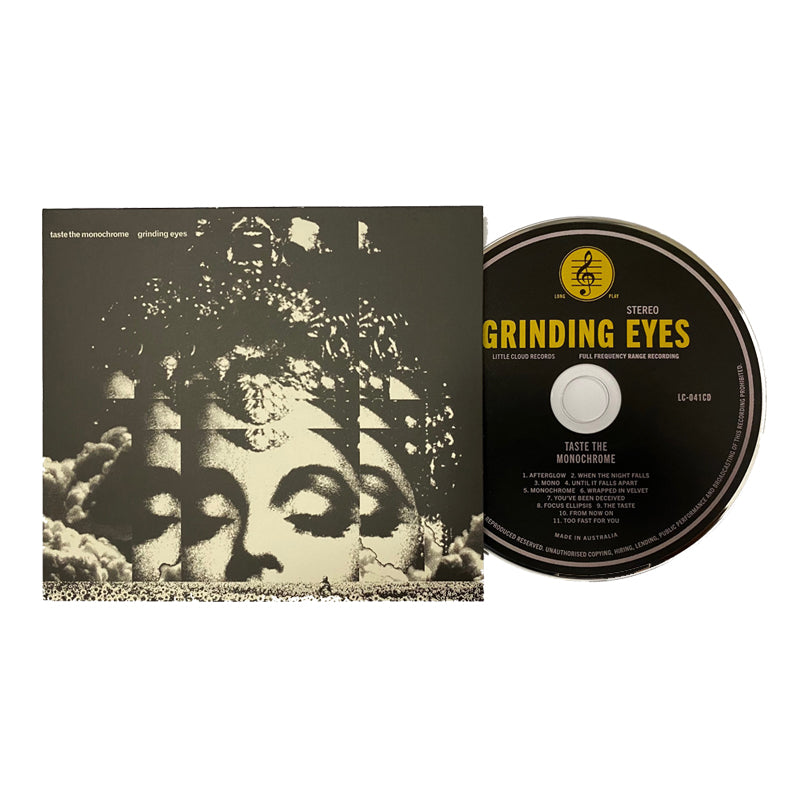 GRINDING EYES 'Taste The Monochrome' CD
Digipack CD version.
GRINDING EYES 'Taste The Monochrome' - new album from Sydney's expansive psych-fuzz-rock trio. 
Hailing from Sydney, Grinding Eyes came together after late night impromptu jams and shares members with past and present bands such as The Mess Hall, Treatment, The Laurels, The Holy Soul and Kimono Drag Queens. Over the years, they've racked up the kilometres, touring all over the world with legendary bands Jesus and Mary Chain, Swervedriver, Dinosaur Jr, Mudhoney, DMA's, The Drones, King Gizzard and stacks more.

Grinding Eyes second album, Taste The Monochrome, came together during the quiet of 2020. A uniquely dark yet driving experience, Taste The Monochrome is a journey through themes of love, loss, isolation, despair and time travel, set to an ominous soundtrack of psych-rock and shoegaze bound together with luscious atmospherics.

Taste The Monochrome was pre-produced with engineer Jim Diamond (Dirt bombs / White Stripes) and recorded at Goliath Studios in Sydney with Owen Penglis (Straight Arrows). The album was mixed by Evan Foster (Boss Martians / Iggy Pop / Dirty Sidewalks) and mastered by Ed Brooks (Death Cab For Cutie / Fleet Foxes).