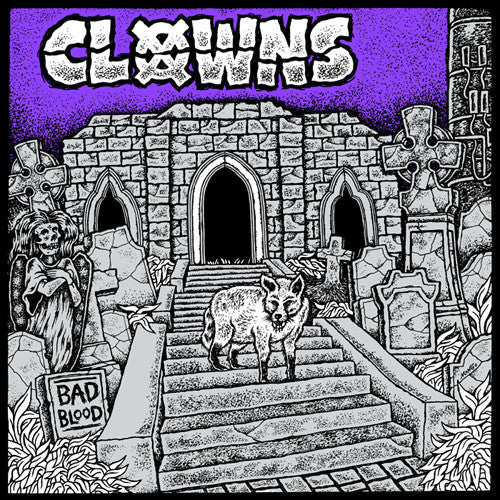 CLOWNS 'Bad Blood' CD
CLOWNS
 embody the carefree, kick-around attitude that helped make Australian guitar music a worldwide fascination. Their rapid-fire 2013 debut album 
'I'm Not Right' 
was labelled 
'savage'
,
'sharp'
 and a '
full on onslaught.' 
Fast forward twelve months and Clowns have completed a tough touring apprenticeship with some of the nation's greats; 
Hard Ons, The Meanies, Frenzal Rhomb, Cosmic Psychos
 and more. Plus slots with 
Poison Idea
 and 
Adolescents
. 
'
Bad Blood
' is Clowns latest destructive offering, written amongst the suburban jungle of Cheltenham (where the band grew up) in a complex that houses
 a bakery, a cattery and a morgue, right across the road from a 
cemetery
. Recorded at at St.Kilda's lauded Hot House Studios with 
Craig Harnath and Jeremy Giddings
 using their famous Neve desk and a truckload of vintage and boutique gear, the production is rich, raw and dirty. Urgent but natural. Reflective of the band's can-do DIY 
approach
 and go hard or go home attitude.