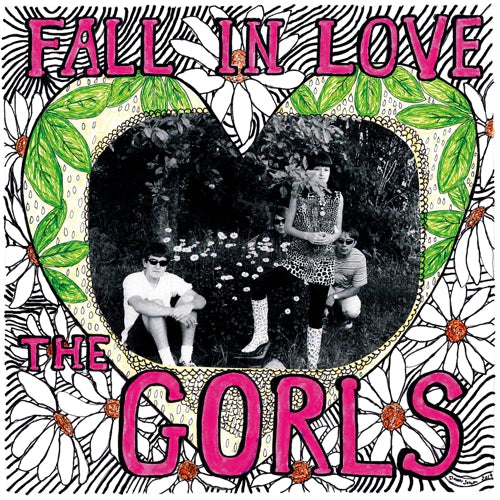 THE GORLS 'Fall In Love' LP
"This one has truly been a long-time-coming. As huge fans of the early '90s Seattle trash rock sound, stumbling upon The NIGHT KINGS in a sea of stale grunge and alternative pap in 1992 was just what the doctor ordered. To this day, my hairs still stand on end when the guitar from 'Black Fluid' revs into gear, which was love at first blast, and from that day forward, seeking out anything music-wise released in the in the ROB VASQUEZ (NIGHT KINGS, MAN TEE MANS, CHINTZ DEVILS, APE LOST, PISSED OFF ZOMBIES, RIGHT ON, NICE SMILE, and of course, The GORLS) universe was nothing short of prerequisite. Formed by core members Rob Vasquez and DAWN JOHNSON, and joined by DONNIE HILSTADT (ex-STATICS, future DUTCHESS & DUKE drummer), and DYLAN MAIDEN (ex-Night Kings) The Gorls blasted out of the gate on their own new imprint, DOPE Records in early 1993, and quickly followed up their debut split 7" with only one more 3-track EP before completely disappearing, and leaving a huge void in their wake.

Which brings us to 2020. Thanks to the help of Dan Wood and Aaron Gilbreath, we tracked down Dawn Johnson who we'd hoped would be holding the keys to our suspicions. Luckily for us all, she was sitting on a full LP's worth of Gorls tracks recorded with JOHNNY VINYL 1992-93, which we can now present for your adoring ear-holes. With 8 of the 12 tracks here previously unreleased, it's a crucial and desperately needed blast of the BEST part of the '90s sound, and an essential brick in the 'Budget Rock pantheon' of 1990s punk history. Pressed in a first edition of 500 copies, with a printed inner sleeve full of photos and an interview with lead singer Dawn Johnson. Includes their incredible version of The Victims' 'Television Addict.'" Shoo-bay-doo-bay.