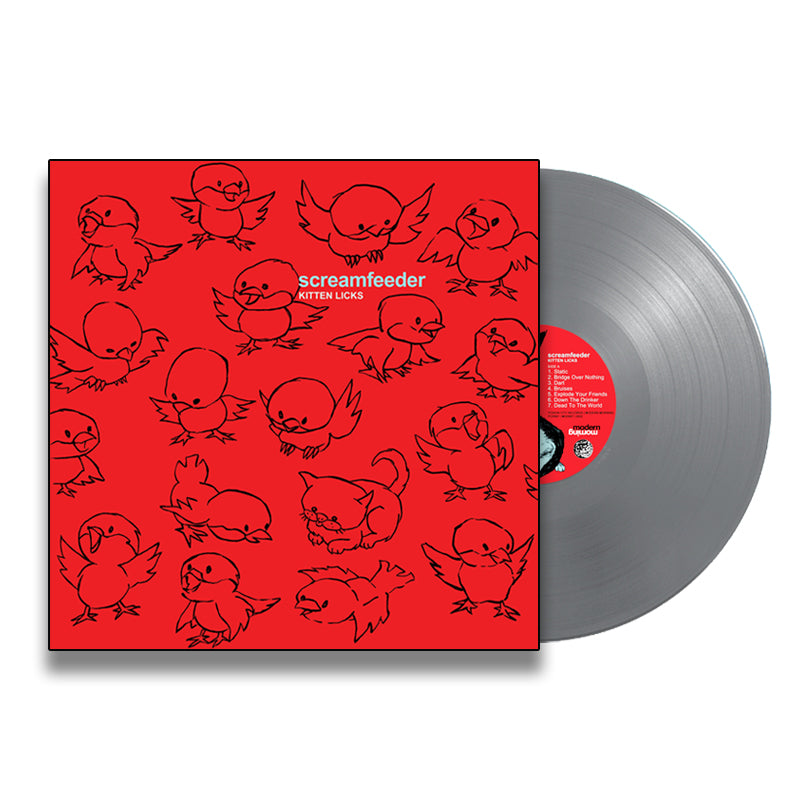 SCREAMFEEDER 'Kitten Licks' LP
BACK IN PRINT!! 2nd pressing on Silver colour vinyl w/ gatefold jackets! Limited edition /250.

Back in 2014, Melbourne's Poison City Records and seminal Brisbane indie-darlings SCREAMFEEDER teamed up to re-issue the trio's first 5 studio albums on vinyl. With the vinyl re-issue of the band's much loved 'Kitten Licks' album out of print for several years, Poison City and Screamfeeder's own label 'Modern Morning' have decided to bring it back into the world inline with the band's new 2022 album and recent national touring.

Originally released in 1996 on the Hypnotized label (Shock) and later in the USA via Timebomb Records, 'Kitten Licks' is arguably Screamfeeder's cornerstone album - an absolute classic of Australian indie-rock.

"How can one album transcend the zeitgeist and yet be utterly of its time? Hearing Screamfeeder's Kitten Licks again is a transportive experience, like watching a film you loved as a kid or flipping through an old album of family photos." - Mess & Noise.
- Remastered by Bryce Moorhead
- Re-imagined artwork by Glenno Smith
- Silver colour vinyl // Gatefold jackets

Some bands come and go, others remain. Some have a quick explosion of popularity, some have a loyal army of dedicated fans. Brisbane's Screamfeeder are lucky enough to fall into the second category. Since forming in 1990 Screamfeeder have released 6 studio albums, numerous Eps and singles, toured extensively in Australia and overseas, played our country's biggest music festivals, shared the stage with the likes of Sonic Youth, Pavement and Swervedriver and consistently produced intelligent, infectious indie-rock gems - all the while retaining a diverse and passionate fan base from all corners of the globe.