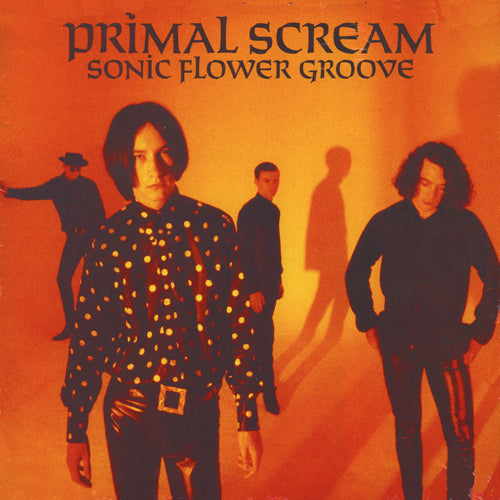 PRIMAL SCREAM 'Sonic Flower Groove' LP
Sonic Flower Groove is the debut studio album by Scottish rock band Primal Scream, released on 5 October 1987 by Elevation Records.
Bobby Gillespie's departure from The Jesus & Mary Chain enabled the pioneering Scots bandleader to focus on Primal Scream full-time. The rewards arrived quickly: the early B-side "Velocity Girl" ended up on NME's legendary C86 compilation (and later inspired the American indie-pop band of the same name), and Primal Scream connected with the crucial English indie label Creation. For the bands debut, Primal Scream opted for producer Mayo Thompson-leader of left-field psych outfit Red Krayola and producer for Pere Ubu, Felt, and The Chills, among others-and completed Sonic Flower Groove for release on the newly set up Warner Bros. subsidiary Elevation Records in 1987. It's the only album featuring Gillespie's wistful, almost fey vocal style, which makes impeccably balanced pop compositions like "Aftermath" especially infectious. The influence of The Byrds is glaring. Glistening guitar melodies entwine and, yes, jangle, though the way they mingle with and complement Gillespie's voice distinguishes the tribute. It's also a prescient album, predicting the refined rock sensibility that would in a few years come to characterize Britpop, but by then Gillespie and Primal Scream would already be blazing new trails.