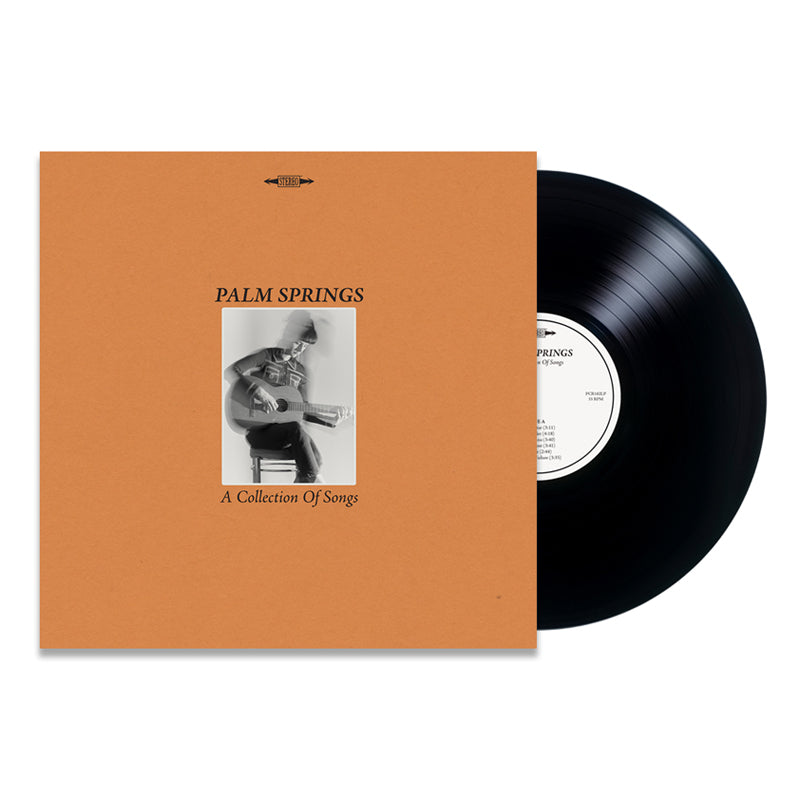 PALM SPRINGS 'A Collection Of Songs' LP
Limited edition vinyl LP version. Comes with MP3 download code that includes two extra tracks.

Bringing together music from long out-of-print 7" and tape releases, here for the first time is a collection of songs spanning the last ten years of output from PALM SPRINGS; the outsider folk identity of Erica Dunn (MOD CON/ Tropical Fuck Storm/ Harmony) and an evolving cast of essential collaborators.

Born out of a compulsion to write sparse and intimate verse and a self-admonishing dig at her nervous affliction for sweaty hands, Palm Springs has been a local cornerstone in dive bars & backrooms playing and releasing music steadily over the last decade. The A side of this record captures the most recent tape offering Palm Springs & Friends originally released by Tender Collection while the B-Side has a spread of selections of the artist's choosing, nodding to early 7"s originally offered by Rice is Nice records and also includes cuts from Flowers in A Vase, the tape offered by the artist's own Palm Springsteen Records. This release hopes to bring Palm Springs to a wider audience and to document the ongoing creative journey of this much loved local musician.
Of the project, musician and creative scholar Dr. Amanda Roff writes:
"The words, elliptical, layers of original observations, regrets, and day-dreams. They confide, they are intimate conversations, but the revelations happen in space, they come with scent and scenery- the smell of leaves, the sea, light falling on a pillowcase, a vase of flowers or a picture on a wall.

The voice, has rasp, fine sand, air and road in it. The low range is smoky, Ironbark, bluish-purple in tint. Sweet and low, as Karen Carpenter once said, "the money's in the basement". It sounds close-up. If it cracks it's stretching to understand the impossible-how a person could love so much, how a person could be so cruel.
The guitar, raw and homespun but strong as a spider's web, nods to heroes of American folk and rock'n'roll, Karen Dalton, Buffy St Marie, Link Wray. It travels, like a landscape viewed from train windows, full of shape and movement, roots and tangled branches, corrugations, ruins of civilization, water, stars, a horse scratching its rump on a fencepost, scenes glimpsed, sparking the imagination and sense of unknown destination.

The cast of characters- scientists, aliens, soldiers, ghosts, actors, rain-drops, drift in broken-hearted wonder about the universe. We wander with them, struck by the beauty of the heavens- life on earth is all struggle, but we are biting and gnawing on the grist."

Recently remastered in it's entirety by Mikey Young, Palm Springs 'A Collection Of Songs' LP/ Digital is out now via Poison City Records.