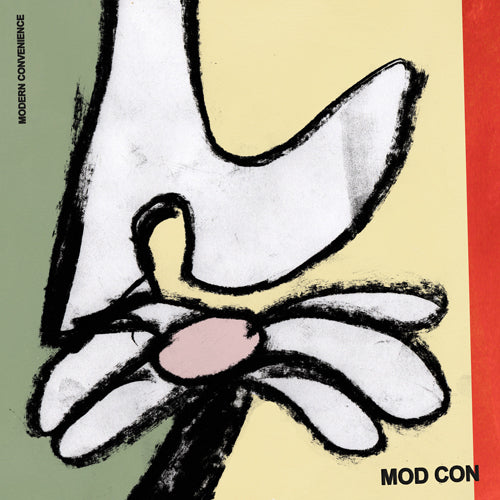 MOD CON 'Modern Convenience' LP
Second pressing of MOD CON's brilliant debut full-length! Limited run of 300 copies - on Blood N Bone colour vinyl. 

The trains of thought that MOD CON — Erica Dunn (guitar, vocals), Sara Retallick (bass), and Raquel Solier (drums) — take us down on Modern Convenience follow a series of themes that question the modern world; is it a joke? A burden? A clean slate? These lyrical cornerstones, along with the undeniable ferocity of this three piece, make a compelling debut release. Gareth Liddiard aptly describes the band as occupying musical territory "between the Bangles and Black Flag."
Recorded over the Easter weekend in 2017 with Liddiard at his home in the Goulburn Valley, Modern Convenience documents the bands creative alchemy and unique approach to song writing. "The isolated rural backdrop provided a perfect combination of clear-cut focus and cabin fever to get the job done," explains Dunn.
Noisy, subversively catchy and rhythmically sophisticated, opening cut "Scorpio Moon" sets the tone for Modern Convenience. "Mirror of Venus" retains the urgency and the tough, tempered rhythm hooks, while "Neighbourhood" and "Tell me Twice" continue with themes of introspection and menace. In addition to these apocalyptic jams, anthems of personal resilience also appear throughout and contain a savvy grasp of the impossible loneliness of the modern era, especially apparent in "Bad Time at the Hilton" and "Get in Front of Me, Satan" which also feature string arrangements by local avant-garde genius Ben Morrison. Call and response vocals form the basis of "Submit" and "Kidney Auction Blues" which throw girl group/60s surf on its head in an aggressive turn of tables which leaves the listener contemplating capitalism, consumerism and the black market price of a human kidney.
Fully entrenched in the vibrant Melbourne DIY community MOD CON are the newest product of the thriving local music community showing through in each members' other creative projects: Harmony, TFS, Golden Syrup and Various Asses.