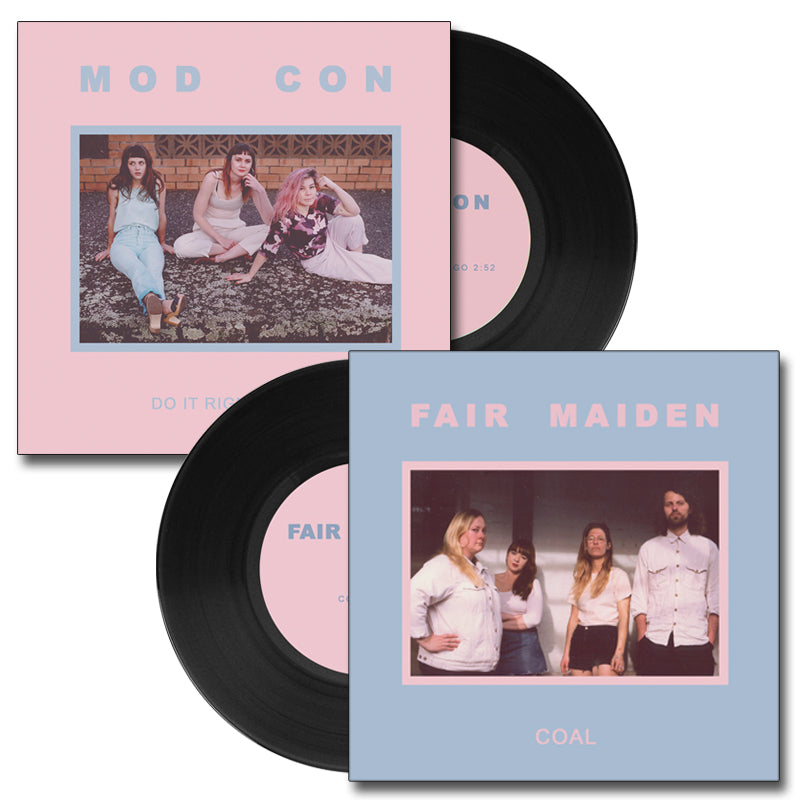 MOD CON | FAIR MAIDEN 'Split' 7"
Limited edition Split 7" between MOD CON and FAIR MAIDEN. Two brand new, previously unreleased singles. Comes with MP3 download code.
The three members of MOD CON had been playing together as Palm Springs; the best alt-country band you may never have heard of. However, when they began writing collaboratively for a new album, the project lent itself to different kinds of writing styles and consequently, MOD CON was formed. Palm Springs will continue as a solo project for Dunn, whereas MOD CON will be the only incarnation of the trio's creative force with angular guitar solos, duo vocals and syncopated rhythms at the core. 
Their new single, "Do It Right Margo" and the first release under this new moniker sees them take an exciting new direction. 
Fully entrenched in the vibrant Melbourne DIY community MOD CON are the newest product of the thriving local music community showing through in each members' other creative projects: 
Harmony
, 
TFS
, 
Golden Syrup 
and 
Various Asses.

FAIR MAIDEN

 
is the moniker of Adelaide-born musician Ellen Carey. Following her involvement in underground cult acts like the post-punk Jemima Jemima and weirdo vocal troupe Birth Glow, Ellen began Fair Maiden as a solo project in 2008 and soon expanded to collaborate with Peak Twin's Joel Carey and Liam Kenny on 2014 self-titled debut LP. Always evolving, Fair Maiden now includes Stephanie Crase (Summer Flake, The Skids), Harriet Fraser-Barbour (Workhorse, Wireheads, Theta), and Hamish Baird (Workhorse) adding opulent layers of harmonies and providing the perfect musical adornment for Carey's stunning dark nostalgic songs. Remarkable in its versatility, Ellen's voice is always at the core, guiding Fair Maiden's reach from songs of disarming, haunted folk to subversive 60's pop laments.