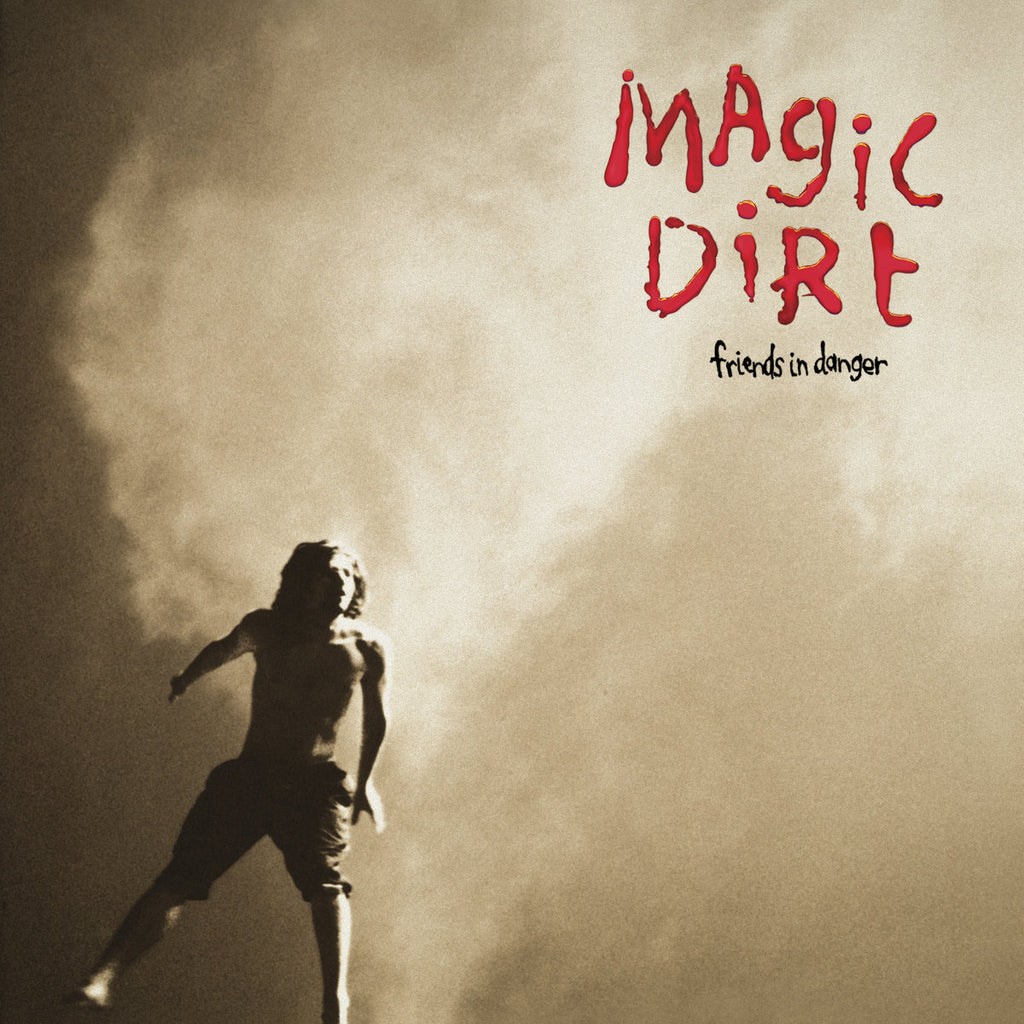 MAGIC DIRT 'Friends In Danger' LP
Available on Emergency Red colour vinyl or Black!

In early 1995, with the success of the Life Was Better EP creating a massive industry buzz around the band, Magic Dirt began writing their highly anticipated debut album, Friends In Danger. In addition, after much international record label attention, the band finally inked a deal with Warner Bros U.S. But amid the dazzling momentum, the band were also faced with picking up the pieces after the departure of lead guitarist, Daniel Herring. Dave Thomas (Bored!), godfather of Geelong punk rock, who had managed the band in the early days, was then recruited. With their swag of newly sketched out songs, the band set up camp at Megaphon Studios in Sydney, with renowned producer Paul McKercher (The Cruel Sea, You Am I) to record to warm, analogue tape. The band were keen to keep experimenting with sonic textures and to also, for the first time, capture their live sound with minimal overdubbing.
Released in September 1996 and peaking at number 25 on the ARIA Charts, Magic Dirt's debut album, Friends In Danger, ushered in a heavier and darker edge to the band which also polarised some press and fans alike due to the band's previous chart topping more melodic offering with Life Was Better. Says Adalita at the time, "...'It's not like we set out to be different...we were always just doing it our own way'. Adds Dean, 'When we started we were just doing what we thought was fun, rather than doing what you do to be successful. And I just thought that was how every band did it." (John O'Donnell / Juice Magazine 1996) Nonetheless, Friends In Danger garnered the band a new hardcore cult following with industry heavyweights like David Fricke, senior editor of Rolling Stone US, rating the album in his Top 100 records of 1997 and saying, "...howzabout the ragged-feedback glory and souped up riff theater of this mighty Australian foursome?" (Rolling Stone US 1997).
Blunt magazine gave it a rave in their 50 Greatest Australian Albums edition describing it as "...a moody and powerful collection of tunes...that act as battlefields upon which melody and feedback clash in splendiferous fights to the death." Daniel Johns of silverchair rated it as best album of 1997 in Alternative Press and promptly invited the band as main support on their national Summer Freak show tour that same year. Magic Dirt would like to dedicate the Friends In Danger reissue to Dave Thomas, who sadly passed away in March 2020. His legacy will live on and Magic Dirt would like to acknowledge his incredible contribution to the Australian music scene and are especially indebted to him for his support and encouragement of the band in their early years.
TRACKLISTING
1. Friends In Danger
2. Heavy Business
3. Pristine Christine
4. Bodysnatcher
5. Dylans Lullaby
6. Sparrow
7. Shovel
8. Fear
9. Befriended Fallen Angel
10. I Was Cruel