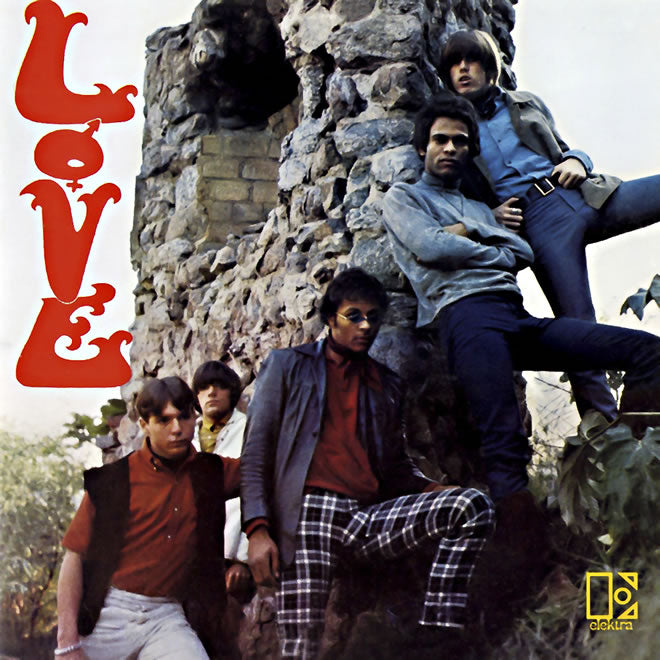 LOVE 'Love' LP
The Los Angeles based band LOVE had a rather short but important ride on the sixties rock scene. Although they never quite reached national or international fame, the band was extremely influential in California on artists such as Jimi Hendrix and the Doors. Starting with their eponymous debut album in 1966, Love released three distinct and original albums through 1967 with their first being the most rock-oriented. The strongly stereo-ized sound of this album features strummed, Byrds-like guitar chords in one channel with crisp, riff-fueled bass and drums rhythm in the other. It is all topped off with the muddy, emotional vocals of lead singer and chief songwriter Arthur Lee.

Although there is little doubt that much of what makes up the Love album is heavily borrowed from contemporary acts, there is definitely something distinct and original about how it is performed and produced. These excellent folk-pop anthems would certainly not be out of place on any sixties fan's stereo, yet there is an unmistakable edge here. Beyond the heavily Byrds influenced style, there are some songs that veer off in the "garage rock" direction, providing a solid template for future bands such as Pink Floyd, Deep Purple, and Rush.

Following the album's release in April 1966, Love went back into the studio to work on a follow-up, starting with the recording and release of the song "7 and 7 Is", which became a Top 40 hit and their highest charting single. These late '66 recordings would form their second album De Capo, which delved deeply into psychedelia in early 1967. A third album, Forever Changes in late in '67, would be the band's highest regarded album, when they were right on the brink of disintegrating due to heavy drug use and creative differences.