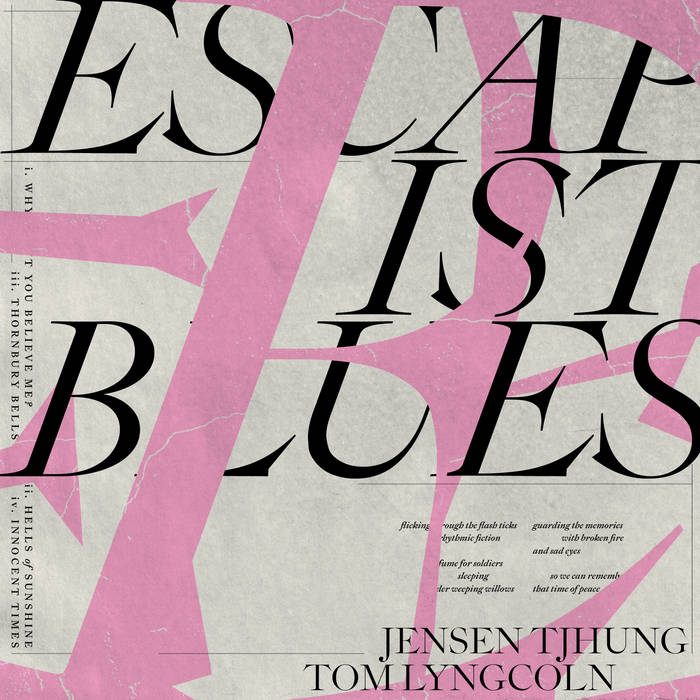 JENSEN TJHUNG & TOM LYNGCOLN 'Escapist Blues' LP
Escapist Blues is a collection of spoken word verse by author Jensen Tjhung and scored by Tom Lyngcoln. Ambitious and exhaustive, the collaboration began in 2019 and three years later is due for release on November 24th 2022 via Solar/Sonar Records. 

Whilst primarily notable for the musical spaces both Tjhung and Lyngcoln have occupied (Deaf Wish, Lower Plenty & Harmony, The Nation Blue respectively), Escapist Blues is long form and comprehensive in it's construction. Missives from other worlds, hammered down one-way phone conversations and writ large with big sounds.

The instrumentation and production is all supplied by Lyngcoln, who bends field recording, electronics and his bastardised guitar into movements through which the readings pass. With guest appearances from drummer Lee Parker (Rot TV, Tol, Slug Guts), flautist Isobel D'Cruz (HEXDEBT, Hantu), Saxophonist Maddy MacFarlane (Plaster of Paris) and Erica Dunn (Tropical Fuck Storm, MOD CON.)