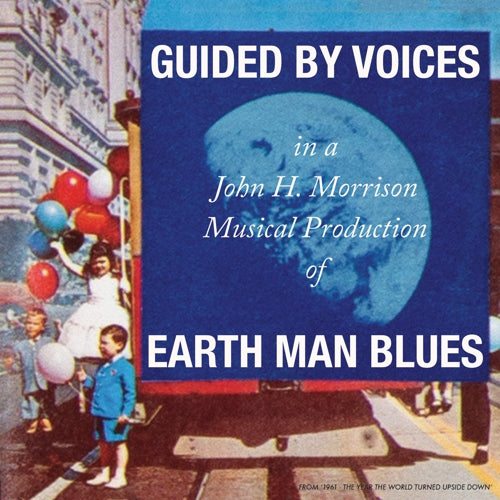 GUIDED BY VOICES 'Earth Man Blues' LP
"Robert Pollard has been spending much of the Covid-19 pandemic listening to his massive record collection in his pajamas. Perhaps consequently, his omnivorous musical taste has never been on more effective display than on Guided by Voices' Earth Man Blues, which could be the band's best album since 1995's Alien Lanes.
While that might seem like a lofty claim - especially with a discography as expansive as GBV's - Earth Man Blues squarely hits all the marks that make Guided By Voices great, again and again and again." 4/5 Rolling Stone.
The 33rd Guided By Voices album, Earth Man Blues, is a magical cinematic rock album, full of dramatic and surreal twists and turns. Lyrics and liner notes trace the growth of young Harold Admore Harold through a coming of age and a reckoning with darkness. Vivid scenes appear: snapshots of youth, fantastical nightmares, unknown worlds.

The music hasn't softened a bit. One will hear the impossibly perfect melodies and word play that you expect from Robert Pollard, with the band playing at peak-heavy. "Trust Them Now" rocks like an instant classic, "The Batman Sees The Ball" is lean, mean rock muscle. Opener "Made Man" tears and slashes at the ears and heart. Sweeping, colossal tracks like "Lights Out (In Memphis, Egypt)" and "Dirty Kid School" stretch far beyond the ordinary vocabulary of rock.

Doug Gillard's brilliant guitar playing explodes out of the speakers. The rhythm section of Kevin March and Mark Shue, always strong and reliable, has grown into a breathing composite organism. Along with Bobby Bare, Jr on rhythm guitar, they drive the songs and make one's head shake. Producer Travis Harrison ties the talents of the band together, once again recorded remotely and individually, pandemic-style. This group brings to life the sounds in Pollard's technicolor imagination.