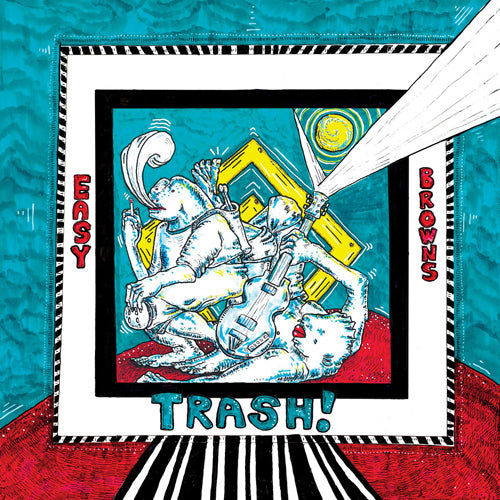 EASY BROWNS 'Trash!' LP
Trash! is the second album by whacked out psych rockers Easy Browns, a culmination of experiences with a whole new lineup to that on their first album, Evil!
Quirky and quick, tight and unpredictable, heavy yet wholesome, Trash! is a huge step forward for Easy Browns in honing their craft, that is uncanny and unpredictable tunes, jagged changes in pace and fast freak outs, yet always retaining catchy pop sensibilities.

Since the release of Evil! Easy Browns have played shows such as Gizzfest, Kennedys Creek Music Festival, Falls Festival Marion Bay, and have shared the stage with acts such as Mildlife, Saskwatch, Sunnyside, Zoe Fox and the Rocket Clocks and more.
Easy Browns are the mental projection of founding member Zak Brown, emerging from the coal-mining town of Morwell in 2015 it is no wonder why the tunes of Easy Browns are inspired by environmental catastrophe and social responsibility. Despite the issue-focused stance taken by the band, Easy Browns retain a light-hearted, loving presence that seems to draw in audiences all over.