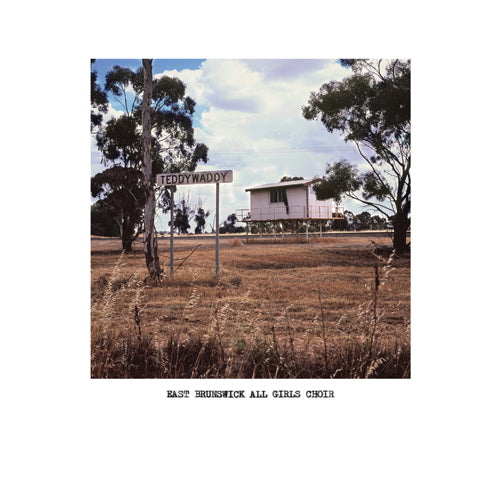 EAST BRUNSWICK ALL GIRLS CHOIR 'Teddywaddy' LP
Teddywaddy is a slumbering patch of country just off the Calder Highway in northwest Victoria, now mostly farmland. It sits 90 minutes from Bendigo, where
East Brunswick All Girls Choir
frontman Marcus Hobbs grew up, and he knows the drive all too well from regular visits there to see his father's family. It's also the namesake of the Melbourne ensemble's long-awaited second album.
"Teddywaddy consists of a handful of large properties," says Hobbs. "Silos with a train station and a lot of sheep and wheat-filling paddocks. There used to be a small town there. My grandfather has shown me foundations of an old school, pub and shops, which are now just peppercorn trees. You would never know these places had existed."
That makes it a resonant backdrop for the album
Teddywaddy
, which encompasses both smouldering studies of isolation and open-air eruptions of catharsis. Co-produced with Anna Laverty (Courtney Barnett, The Peep Tempel), the album is etched deeply with such contrasts. For every spacious swath of majesty like 'Rounds' or 'Never/Never', there's some punked-up exorcism like the calm-to-squall 'DOG FM', the nerves-fraying 'Cicada Chirps the Chicane' or 'Essendon 1986', an old song revisited and accelerated.
"I like the contrast of power and surprise in music. Something that makes your head tilt back when it hits," reflects Hobbs, who shares the band with bassist/keyboardist Rie Nakayama, drummer Jen Sholakis and guitarist Rob Wrigley.
East Brunswick All Girls Choir
debuted with the 2009 mini album
Dead Air
, then followed it up with 2014's Australian Music Prize-longlisted
Seven Drummers
. In the years since, they've supported The Peep Tempel, Gold Class and Cash Savage & The Last Drinks while building to this new album.
To say it was worth the wait is an understatement:
Teddywaddy
is the most profound and riotous statement of the band's career, anchored at every turn by the ragged glory of Hobbs' eruptive singing and the piercing details of his lyrics.