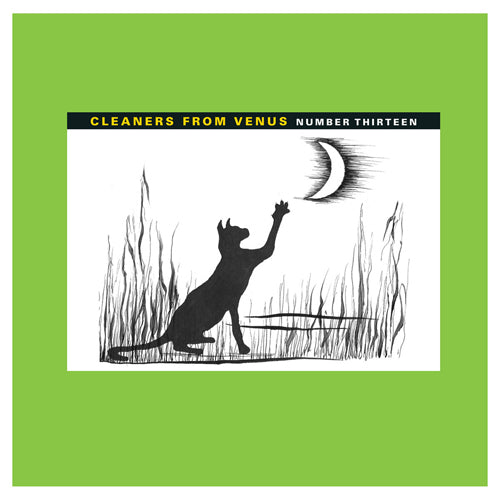 CLEANERS FROM VENUS 'Number Thirteen' LP
Following the release of "Living With Victoria Grey," Martin Newell and the Cleaners from Venus once again began taking their musical careers seriously, releasing a few singles and two vinyl LPs.

However, by late 1988 Newell and bass player Peter Nelson ended up forming a side project by the name of The Brotherhood of Lizards. After busking and loosely recording some demos, the band were signed to the independent label Deltic Records. Newell and Nelson gained quite a bit of media attention for their guitar driven rock by refusing to tour by anything but bicycle. Unfortunately, Nelson left the band before it could fully come to fruition.

What we find in "Number Thirteen" is a transitional period for Newell. Intended as a demo, the cassette received positive feedback, but ultimately led no where. At 37 years old, Martin Newell reflected upon the almost two decades of hard work and musical activity which had led him to this point. One morning he got up and began to coolly put his instruments away. He turned his small upstairs music studio into a room for books and writing. He decided to turn to the life of gardening that he'd always thought upon.

However, the simple life of a gardener would not last long. Newell soon found attention with his poetry and writing, penning a semi-regular column for London's Independent, appearing on many TV and radio programs and publishing several collections. Finally, in autumn of 1992, through another series of connections and coincidences, he was asked if he would like to make a solo album, with none other than XTC's Andy Partridge in the producer's chair. The first thing he did, before dusting off his long abandoned instruments, was send Andy Partridge a handful of songs from the Cleaners from Venus' "Number Thirteen" cassette. Four of these would eventually form the basis of what became his first solo album and international success, "The Greatest Living Englishman." The quartet of songs chosen by Partridge were, "The Jangling Man", "Home Counties Boy", "A Street Called Prospect", and "Christmas in Suburbia". "Number Thirteen" is one of the many stepping stone releases that have led Martin Newell and the Cleaners From Venus through their storied career.