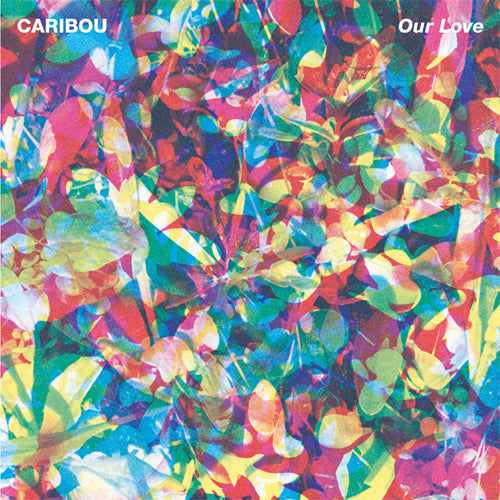 CARIBOU 'Our Love' LP
You reach a point in life where the question of how to stay at the top of your game looms, with the only real solution being: you change the game. Our Love, the new album from Caribou, is the sound of Dan Snaith doing just that. Our Love is the fifth studio album from Caribou.

Our Love is formed around a mixture of digital pop production, hip hop-inspired beats, muted house basslines, and a love of shuffling garage that can be traced all the way back to the time of Start Breaking My Heart – all of which are, of course, filtered through Dan's own unique perspective. The warm analog sounds of classic soul should not be overlooked either, for they weave themselves most intensely into the record's DNA. In fact, Our Love is probably Caribou's most soulful record to date, with tracks like "Back Home" whose heartfelt lyrics – dealing in tired relationships and a weary kind of love – and organic nature cut through the bubbling synths and blissful euphoria of their synthetic constructions. It's not all downbeat of course; while some thoughts linger on mortality, loss, and letting go, there is always an element of celebration.

Having followed up his Polaris Prize-winning 2007 record Andorra with the universally adored Swim in 2010 (selling nearly 175,000 copies worldwide and being named Album of the Year by Rough Trade, Mixmag, and Resident Advisor while also hitting The Guardian, Pitchfork, Spin, and Mojo's Top 20), Dan has spent the intervening four years touring the world, bringing not only the sounds of Caribou to the stage but proving his immeasurable worth as a DJ with epic 7½-hour-long sets. In 2012, Caribou were personally invited to join Radiohead on the road while Dan released his first album under the guise of his dancefloor-loving pseudonym Daphni to widespread critical acclaim. Following the shape-shifting sounds of JIAOLONG and the brightly textured, fluid constructions of Swim – both inward-looking records in their own way – Dan withdrew to the basement once more to work on Caribou's next opus. Only he didn't: Our Love isn't the sound of isolated creation but the sound of Dan at his most connected – with love for his listeners, his collaborators, and those closest to him.