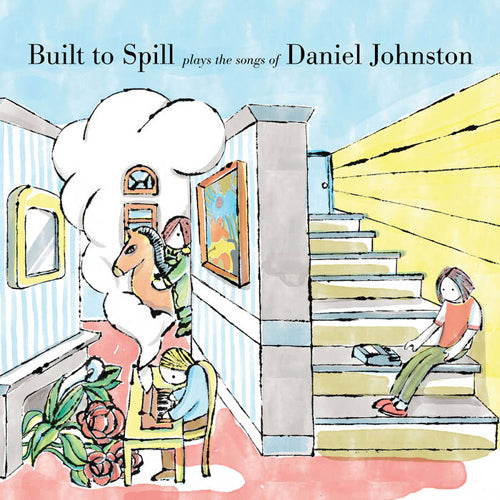 BUILT TO SPILL 'Play The Songs Of Daniel Johnston' LP
One of the primary gifts of the late songwriter Daniel Johnston was his ability to delicately articulate humanity's small joys and crushing lows. As a lyricist, Doug Martsch is also known for his observational gifts: his songs for Built To Spill, however arch, subtly document life's peaks and valleys. That's one reason the band is uniquely suited to cover Johnston's music. Another is the fact that Martsch is a long-time Johnston fan—he covered "Some Things Last a Long Time" on Built To Spill's 1996 rarities compilation The Normal Years—and has tackled the intricacies of Johnston's work when Built To Spill backed the songwriter on his 2017 tour. Compiled during rehearsals during that trek, Built To Spill Plays the Songs of Daniel Johnston is a stellar covers album that does right by Johnston's folk roots and open-hearted spirit—an off-the-cuff, yet remarkably complex tribute.

Martsch and his then-bandmates, bassist Jason Albertini and drummer Steve Gere, offer warm, exuberant performances that capture the essence of Johnston's work. The fuzzed-out, swaggering "Fake Records of Rock and Roll" boasts the appropriate amount of noisy bite; "Queenie The Dog" is an urgent tangle of strumming guitars and propulsive rhythms; and "Good Morning You" hews toward incisive indie-folk with majestic, precise riffs. Martsch's empathetic, keening vocal tone is a perfect match for Built to Spill's takes. On "Bloody Rainbow," he puts more emphasis than Johnston did on the words "affair" and "care," as heard on the lines, "She remembers a love affair/ Steamy hot romance, she couldn't care." The drawn-out approach magnifies the longing that's always lurking in Johnston's songs; when Martsch sings one of Johnston's signature lines on "Tell Me Now" ("It's hard to find a friend"), his combination of resignation and wistfulness pierces the heart.