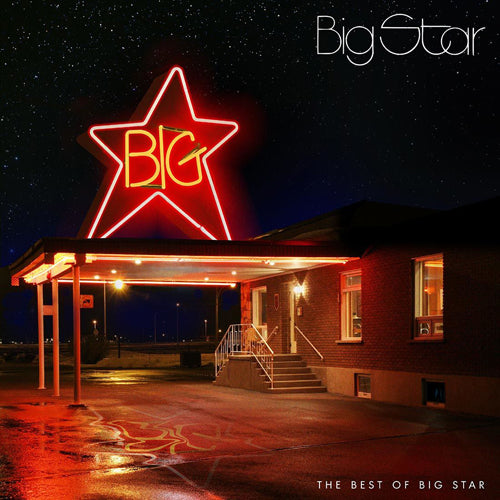 BIG STAR 'Best Of Big Star' 2LP
Though power-pop forefathers Big Star were active for just a few short years in the early-mid 1970s, the Memphis band has gone on to become one of the most influential artists in modern music, with a cult status that few can compete with. This new compilation celebrates Big Star with 16 tracks spanning all 3 of their LPs (1972's #1 Record, 1974's Radio City and Third, released after the group disbanded, in 1978), and features rare single versions of some of their most popular songs. Includes liner notes from GRAMMY-winning writer and director Robert Gordon, plus an introduction by sole surviving Big Star member, drummer Jody Stephens.

Formed in 1971 by singer/songwriters Alex Chilton (1950-2010) and Chris Bell (1951-1978), drummer Jody Stephens (b. 1952) and bassist Andy Hummel (1951-2010), the Memphis-based band recorded their first LP with producer John Fry at his Ardent Studios. Their aptly-named first album, 1972's #1 Record, included the jangly, upbeat "When My Baby's Beside Me," dreamy "Thirteen" and "Down The Street" (famously covered by Cheap Trick).

Two years later, after the departure of Chris Bell, the three-piece released their follow up, Radio City (1974), which featured "September Gurls" (covered by likes of The Bangles and Superdrag). In this second album, writing solo, Alex Chilton proved his songwriting prowess.

In the fall of 1974, not long after the release of Radio City, and the departure of bassist Andy Hummel, Chilton and Stephens began working on their next album, which, due to a lack of interest by record labels, was shelved, and the remaining members of Big Star disbanded.

However, by 1978, there was a renewed interest in the band, with the reissue of their first two records as a double LP in the US and UK, and the then mythic third album was released as Third (later reissued under the name Sister Lovers), and has long been revered by artists and critics as one of the most influential albums ever produced.