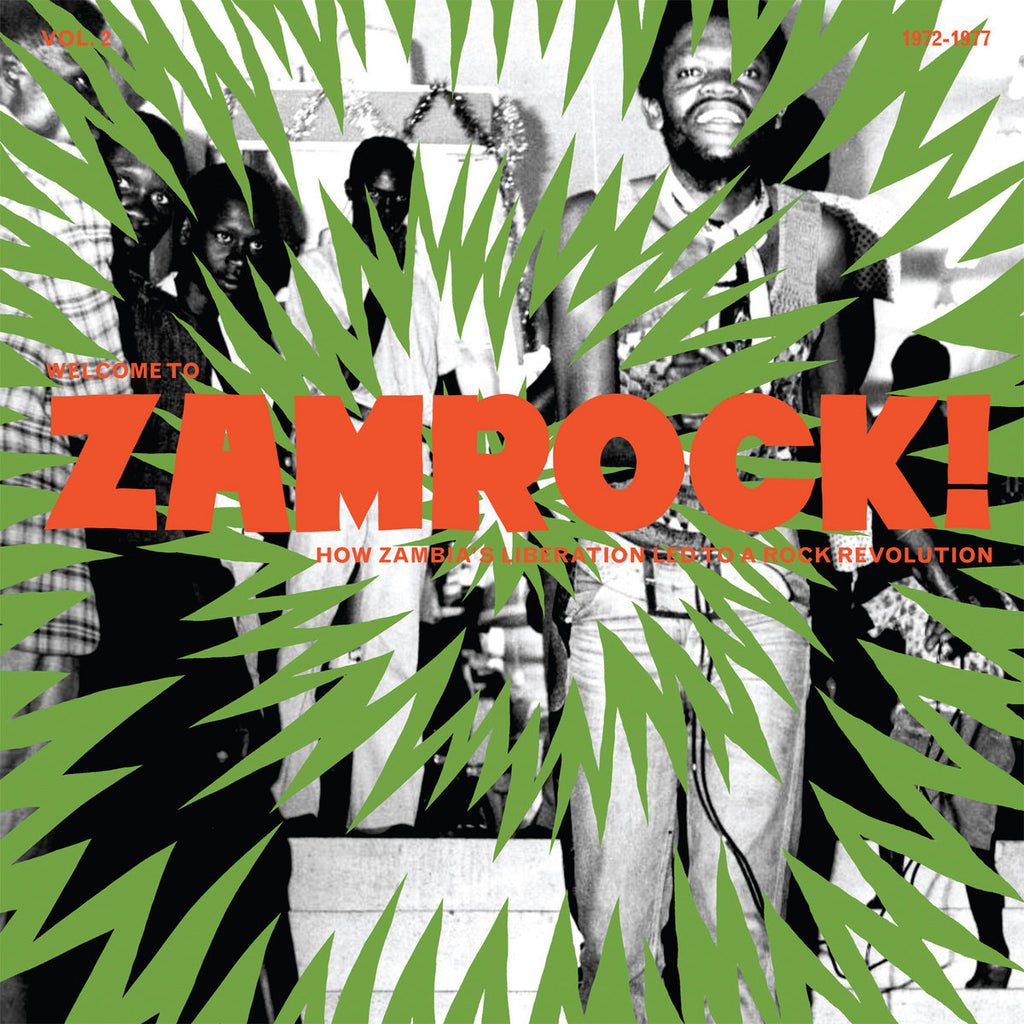 V/A 'Welcome To Zamrock! Vol.2' 2LP
How Zambia's Liberation Led To A Rock Revolution. 1972-1977. An overview of the Zamrock scene, from its ascension to its fall to its resurgence, presented as two volumes, Double LP.

By the mid 1970s, the Southern African nation known as the Republic of Zambia had fallen on hard times. Though the country's first president Kenneth Kaunda had thrown off the yoke of British colonialism, the new federation found itself under his self-imposed, autocratic rule. Conflict loomed on all sides of this landlocked nation. Kaunda protected Zambia from war, but his country descended into isolation and poverty as he supported rebel movements in neighboring countries Angola, Zimbabwe and Mozambique and stood up against apartheid South Africa.

This is the environment in which the 70s rock revolution that has come to be known as Zamrock flourished. It's no wonder that the Zambian musicians taken by American and European influences gravitated to the dark side of the rock and funk spectrum. Fuzz guitars were commonplace, as were driving rhythms influenced by James Brown's funk and Jimi Hendrix's rock. Musical themes, mainly sung in the country's constitutional language, English, were often bleak.

When Now-Again Records's Eothen "Egon" Alapatt started his investigation into this scene, he found that Zamrock markers were few. Only a small number of the original Zamrock godfathers that remained in the country survived through the late '90s, when the music recorded in '70s Zambia became the final frontier for those global-psychedelic rock junkies searching for their next fix. AIDS decimated this country, and uncontrollable inflation forced the Zambian rockers that could afford to flee into something resembling exile.

This was not a likely scene to survive – but it did. Following Now-Again's previous anthologies centered around Zamrock bands WITCH, Ngozi Family, Amanaz and Musi-O-Tunya, Welcome To Zamrock!, presented in two volumes, arrives; these two volumes highlight Now-Again's decade-long investigation into this musical movement and present the definitive overview of its most beloved ensembles. Zamrock's ascension, its fall and its resurgence is detailed in an extensive book written by Alapatt and Zambian music historian Leonard Koloko. Both Welcome To Zamrock! volumes are presented as 2LPs (with WAV download card and edited booklet) and also as a full 104-page hardcover book with CD. Bundles of both formats are available only via Rappcats, at a discounted price. Both anthologies contain rare tracks by WITCH, Amanaz, Paul Ngozi, Chrissy Zebby Tembo, Five Revolutions, Dr. Footswitch and every important Zamrock band.